More Thoughts on More Stuff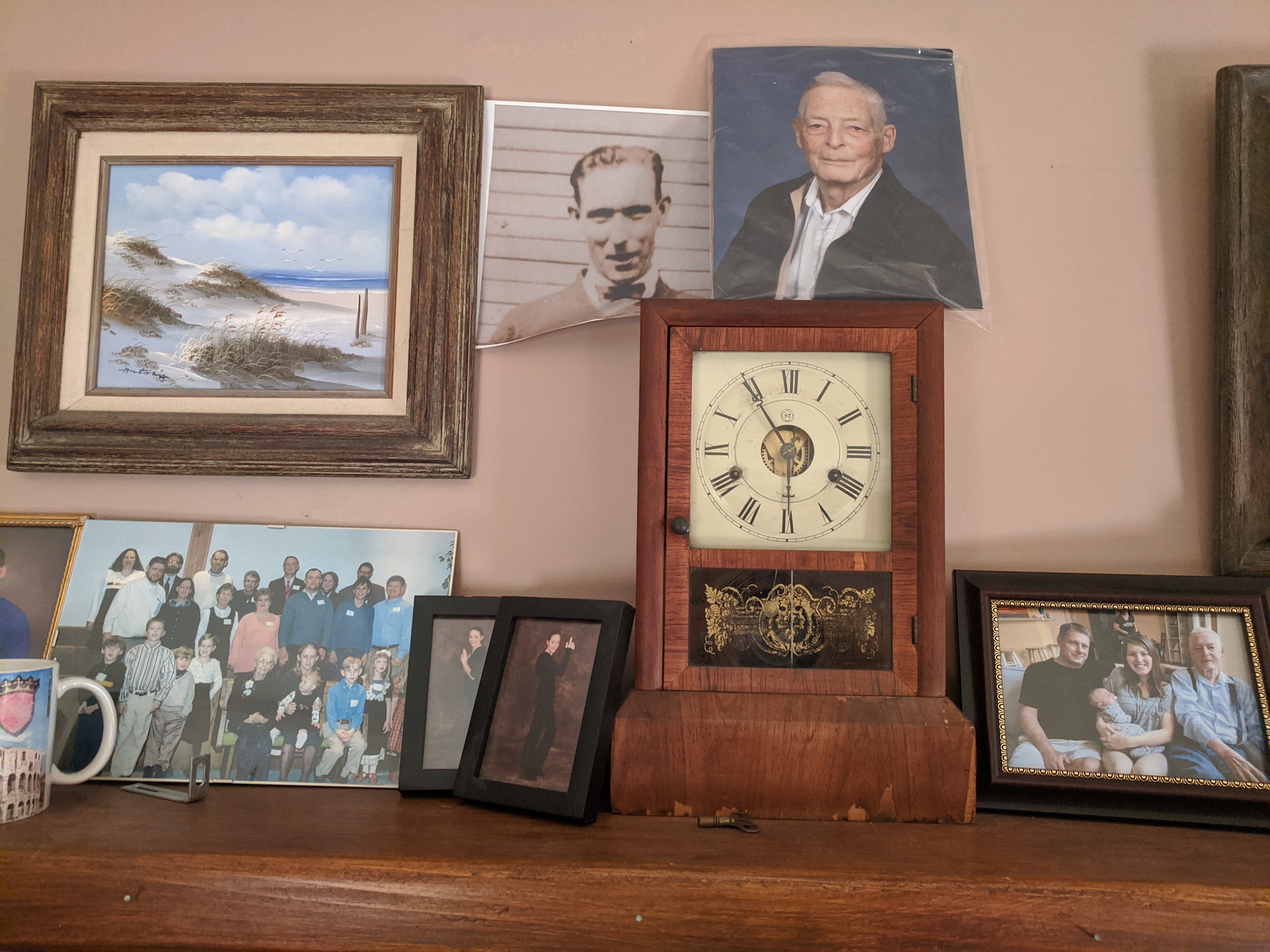 1

What is this and who is it for?

This is written primarily as a personal reflection to my cousin about us both winding up with tons of family "stuff". Secondarily it is intended for a family newsletter. Tertiarily, for my sons to document snippets of family history, and lastly (quarternarily ?) it is written as an "open letter".
2

To John

John, you and I both have a lot of "family stuff", for different reasons I think. I sort of inherited it as, literally, "the last man standing". I care about it some. I've been told stories about some of it my whole life. I think you have been a little more active (well, a lot more active) in collecting and organizing "family stuff".
3

Some (more) of the stuff I have

I have (top of the head, small sample) the Crokinole game board (19th century I think), the big old custom-made oak cabinet (that has moved exactly 3 times since it was made in the 1860s), two old oak kitchen tables (Grandma/"Esther Morrison"'s and Ernie's), our great grandmother's 1868 wind-up clock with which she "set up housekeeping", wall hangings, family bibles, hymnals, cookbooks, school books, farm records, the founding constitution of the Union Soldiers Aid Society (1863) of the Dry Run Church, tools (Grandpa's scythe), and until recently we had the Civil War Diary of Elisha Morrison and his discharge papers. Mike has the rifle Elisha Morrison picked up after the other one he had was struck by a bullet saving his life, or none of us would be here today.

On the Jones side I have all Dad the photography major's negatives, the Jones_Reeder_Williams family records, my grandmother's family photo album showing Dad's high school dance band practicing (led by one of Nancy's former neighbors … small world) and pictures of the TV showing live atomic bomb test blasts and the coronation of Queen Elizabeth (who is STILL on the throne, is she immortal?)

If anybody in the family wants some "family stuff" talk to me. Much of it can be had cheep (free). I may be making an inventory which would aid your selection.
4

What's the value?

Some of the people we have behind us include Pilgrims (John Alden, Priscilla Mullins), "Underground Railroad" participants (Ephraim Gould), Union Soldiers (Elisha Morrison) and on "Esther (Free) Morrison"'s side a Hessian Soldier from the Revolution who jumped ship and took the name "Free" with some connection to the zany "Immortal J. N. Free", and then there's "Cousin Henry [Longfellow]" (also descended from John Alden)
Tell me not in mournful numbers, life is but an empty dream….life is real! Life is earnest! And the grave is not it's goal; Dust thou art, to dust returnest, was not spoken of the soul
It's good to know where you came from. It's good to know the laudable deeds of your ancestors. Not everybody has that. Not all deeds we know about were laudable or momentous,
"Though it's the laughter, we will remember, whenever we remember, they way we were … the rest we simply choose to forget" (B. Streisand)
5

Where is the stuff going?

I often wonder where this stuff is going. Some of it's been around since the 1700s. Apparently somebody has cared about it in every generation since then. Maybe I'm the last. Maybe it will finally wind up in the dump (Bryan, Daniel, Doug, Meg …. your call :-))
6

Where are WE going?

At one level we are stuff. I think you and I may both have a date to join all the loved ones we know in the Frankfort cemetery in the next few years (every time I go there I look around and say "Thelma_Bess_Mom_Dad_Grandma…what are YOU doing here?". As time goes on I "know" more and more people there.

Until then, back to "Cousin Henry"
Let us, then, be up and doing, With a heart for any fate ; Still achieving, still pursuing, Learn to labor and to wait.
And one of the passages that I'm sure inspired him:
54 But when this perishable will have put on the imperishable, and this mortal will have put on immortality, then will come about the saying that is written, "DEATH IS SWALLOWED UP in victory. 55 "O DEATH, WHERE IS YOUR VICTORY? O DEATH, WHERE IS YOUR STING?" 1 Corinthians 15
7

Closing

Stay safe during this strange (COVID19) time. Enjoy time with your family. Enjoy your genealogy work (and thank you). Thanks for following up with Ebright on Dad's stone. Hope to see you soon.

Day 14 of #100DaysToOffload https://100daystooffload.com/