AT Hiking 2020: 1500 miles down, 700 to go
1500 miles down, 700 to go to finish section hiking the Appalachian Trail with 215 miles completed this year in 3 trips.
Of course, I have some of the hardest miles left: the Smokies, Mt. Washington, the Whites, the Presidentials, the Bigelows, but with persistence, luck, health, constant gear tweaks (and some HARD hiking) I should finish in a few years.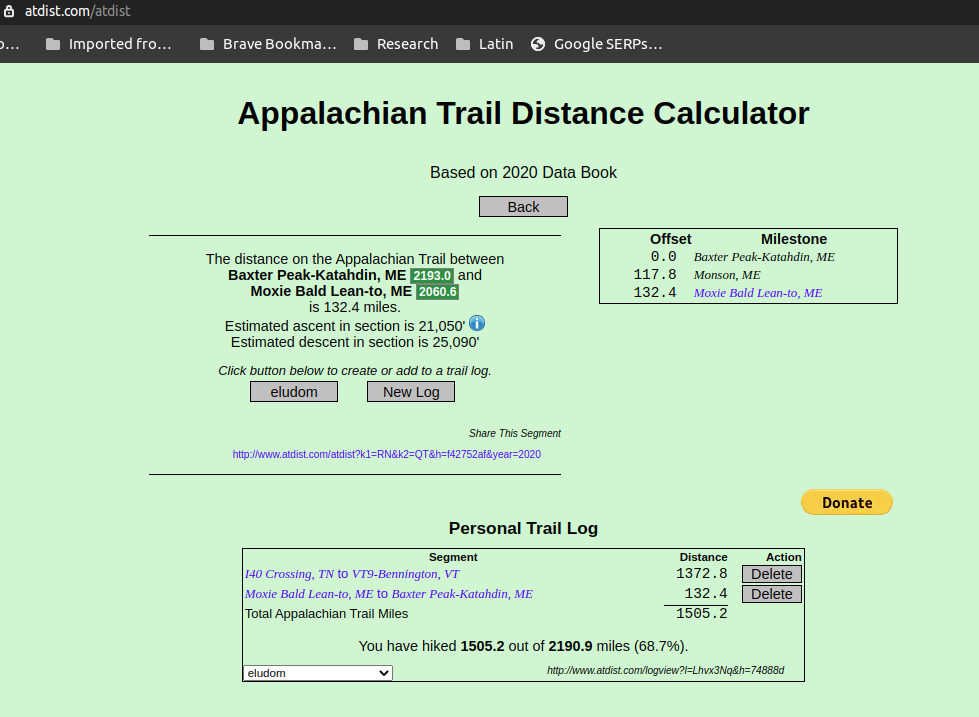 #100daystooffload #hiking
1

9/6 - 9/12/2020 Bennington VT to Great Barrington, Mass (Rt. 23)

82 miles, 6 nights.

From Sunday 2020-09-06 to Saturday 2020-09-12 I hiked 82 miles SOBO on the Appalachian Trail from Bennington, VT (VT 9) to Great Barrington, Mass (Mass 23). Highlights (high point) of the trip included Mt. Greylock, the highest point in Mass, the lovely town campsite in Cheshire, Mass, Camping by a beaver dam Sunday night and seeing Moose in the morning, lots of beaver dams/bogs, staying 2 nights (Thursday, Saturday before driving home) at the Berkshire Lakeside Lodge, a lovely little motel .2 off the trail, and, of course, lots of hiking and people. Resupply in Dalton, Mass at the Post Office. Chocolate shake and meatball grinder in Cheshire. Pizza and milk in Dalton. Magic coming down to 20 Thursday in the most-of-the day rain. The weather, except for Thursday rain, was excellent. Upper 50s to lower 80s.
Pre-trip I stopped at a Legend Of Sleepy Hollow/Rip Van Winkle site, and just down the road the Martin Van Buren home, a short hike in Philmont (!), NY to a high waterfall that people were swimming under, saw some wild turkeys. Stayed at the Days Inn in Great Barrington and got a shuttle Sunday morning from Debbie Andrus
Post trip, I went back to the Berkshire Lakeside Lodge. I'd spent time in the area. Normal Rockwell museum. Lakes. Tanglewood music festival (Boston Symphony summer series). Shaker village (I camped at the ""Shaker Campsite""). West Stockbridge is a lovely little town. It has the ""TurnPark"", an outdoor interactive art park where I met one of the artists (cutting the weeds). Good food. Probably expensive and crowded in a non-COVID high season. "
2

7/3-7/4/2020 Davenport Gap to Hot Springs

33.9 miles, 1 night

Breakfast at diner. Shuttle to I-40. Lost 1 - 1.5 hours because shuttle driver (NYC guy) was a slave to his GPS, would not just hop on 40. On trail at 10. Made it to Max Patch about 6. UP HILL. I was shot. July 3 on the summit was a mob scene. I camped 1/2 mile short. Tried cold dinner (mashed potatoes + stuffing + chicken). Meh. Went up for sunset, and again just after sunrise. Bueatiful. Hiked 21 back into Hot Springs. Hiked a little way with 2 girls from Tucker/Stone Mountain, GA (where my wife went to school). Hit town. Liquid. Shower. DROVE to store. White Castles. Bed. Drove home. %65.1 of trail done.
3

6/17-6/24/2020 Hughs Gap to Hot Springs

99 Miles, 7 nights.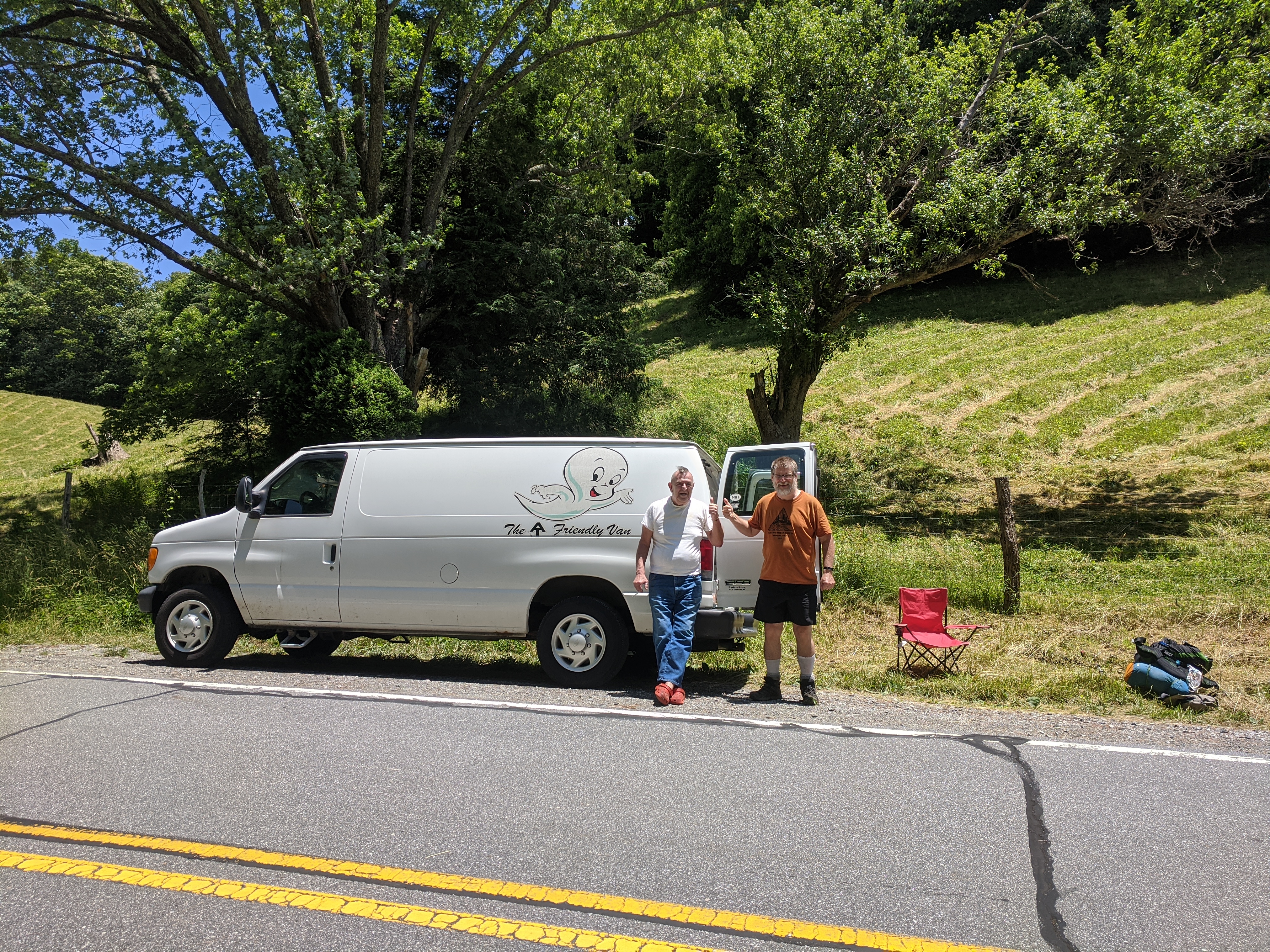 "Mountian Squid" joined me for the first 3 miles. Ran into 2 older Russian couples who were out for the first time. Hiked with the owner of https://www.flowmarshall.com/ gallary in Marshall, NC and her British husband for a bit. Stayed at Uncle Johnnies 1st night, shuttled to Hughs Gap. Stayed at Uncle Johhnies 3rd night, resupplied, hiked on to Hot Springs. 20 into hot springs from Laurel Fork. Zeroed at Laughing Heart hostle, shuttled back to Irwin to get car, drove, car broke down in Wythville (axel), rented a car, came home, started a new job, went back to Wythville Wednesday night. Got car Thursday drove back to Hot Springs_Laughing Heart, run by "Chuck Norris" and "Tigger" … former Jesuit retreat center_hostel. Great place. Got food in Hot Springs hiking in. Big hill/rock steps coming down.
Post 26 #100DaysToOffload https://100daystooffload.com/